On the 28th of October, the Advocating for Health (A4H) coalition led by the Ghana Non-communicable Diseases Alliance (GhNCDA) organized a sensitization seminar for Ghanaian journalists on the public health implications of sugar-sweetened beverages (SSBs). The seminar aimed at increasing the knowledge and understanding of journalists on SSBs and non-communicable diseases (NCDs), empower them to lead evidence-based health-promotion campaigns that would inspire behaviour change and also enable then gain expertise on how to engage and influence policy makers to consider and implement public health policies.
The project lead for the A4H project Prof Laar, provided a brief presentation on the concepts, motivations and objectives of the project, highlighting that, it is a coalition that is engaging multiple stakeholders towards creating a favorable environment for Ghana to implement a number of public health policies – food related fiscal policies, as well as reducing the consumption of unhealthy food products such as SSBs. He said during his presentation that the World Health Organization has endorsed health taxes as part of evidence-based strategies in the prevention and control of NCDs which has both public health and economic benefits. Emphasizing on SSBs, he expressed the need for government to put heavy taxes on these products to make them unattractive.
The event also received a virtual presentation from Mr. Adeolu Adebiyi, the Senior Regional Advisor for Africa, Global Health Incubator Advocacy. His presentation brought to light the socioeconomic impact of SSB taxes; a burden on individuals, a burden on the healthcare system and loss of productive working population. He added that imposing a tax on SSBs is an effective policy option to reduce the healthcare cost and burdens of NCD.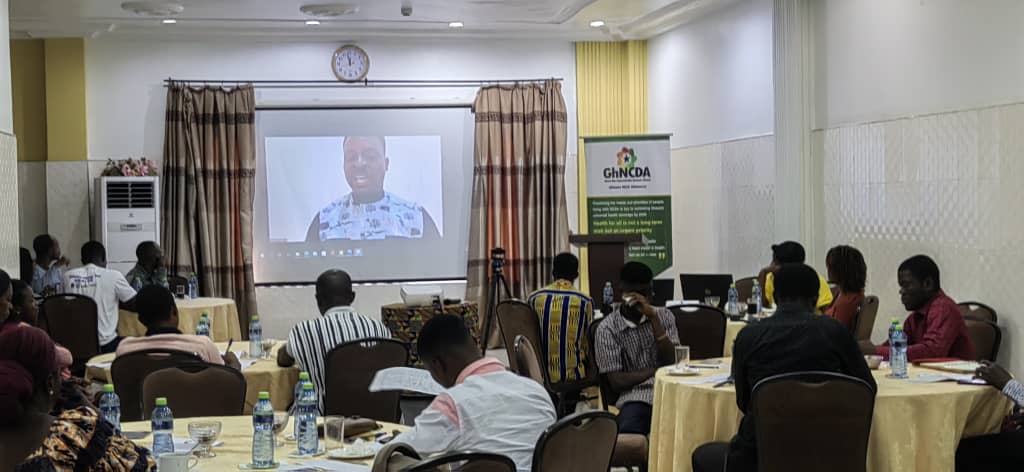 Mrs. Helena Nti, a founding member of the Ghana Academy of Nutrition and Dietetics, spoke about the health implications of SSBs consumption during her presentation. She gave a breakdown of the quantity (teaspoon and its equivalence in grams) of sugar found in the different brands of SSBs on the market. She therefore urged Ghanaians to limit the intake of these SSBs, further outlining a number of healthier alternatives to SSBs. She concluded by saying people in the Low Middle-Income countries (LMICs) are more susceptible to NCDs, hence a tax on SSBs will reduce their consumption and reduce cases of NCDs reported in the country.
The seminar also had Mr. Francis Essel Cudjoe a health advocate and a person living with a type of NCD, sharing his personal experiences with the journalists. "My unhealthy lifestyle led me to becoming diabetic and this was due to lack of education," he said. He added that the media should carry the information to the people to educate them on their lifestyle choices; reduce SSB consumption in order to prevent NCDs.
Finally, the National Coordinator for Ghana NCD Alliance presented on the acts and tactics of industries in interfering with public health policies. He stated that, tobacco, alcohol and SSB industries are three health-harming industries and the government of Ghana must take action by taxing these commodities to make them unattractive. He concluded by saying SDGs 1 and 2 cannot be achieved when there is a rise in disease burden in our countries. "This will increase poverty and reduce productivity in the country" he added.