The Advocating for Health project held its first float in Tamale, Northern Region of Ghana on July 20, 2022. Led by the Ghana Public Health Association (GPHA), with support from the other coordinating partners of the project,  this event was to sensitize the populace on the harmful effects of sugar-sweetened beverages (SSBs) on their health.
The GPHA led a team of about 300 individuals from the Ghana Health Service, Ghana Registered Nurses and Midwives Association, Union of Professional Nurses and Midwives Ghana and the Northern Regional Health directorate and University for Development Studies to create awareness on the need to reduce the consumption of SSBs. Placards and branded T-shirts containing different key messages on SSBs were used during the float. About 500 hand fliers were also distributed to residents.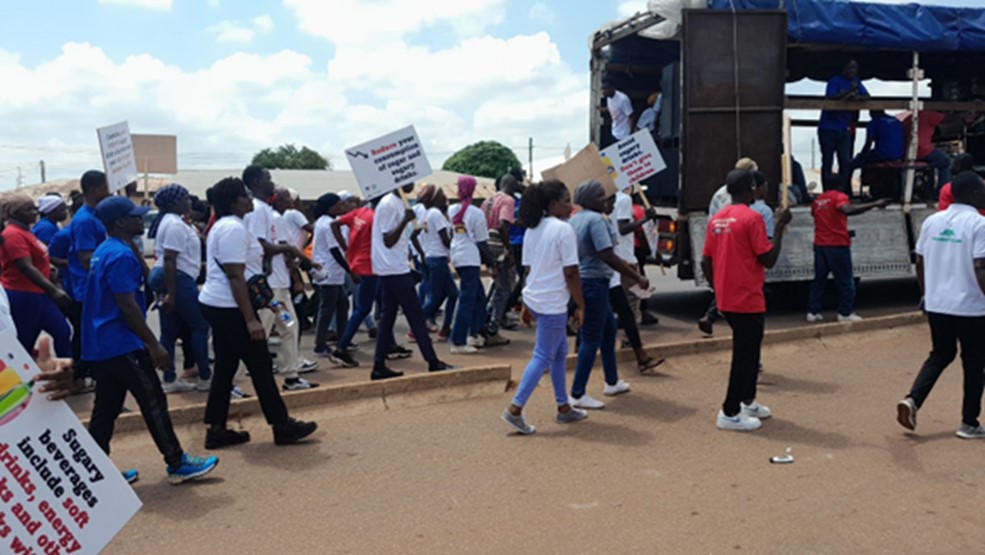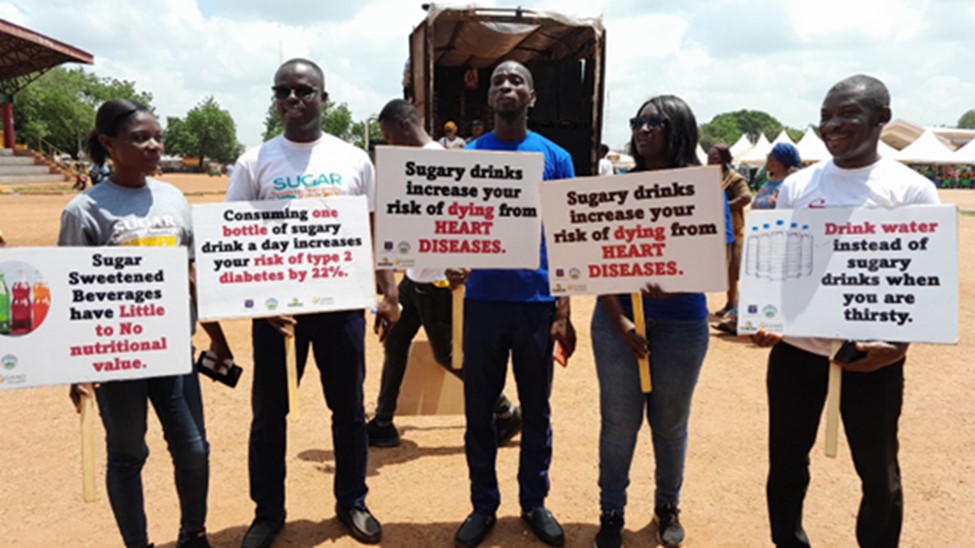 The procession started from the Jubilee Park through Agric, Traffic Light, Choggu Roundabout, Aboabo and ended at Jubilee Park.
According to Mr. James McKeown Amoah, the organizer of the event, the food environment of a country has a significant influence on its dietary acquisition, dietary intake, and nutritional outcomes and therefore, the A4H Project aims to create a favorable environment and stakeholder buy-in for food-related fiscal policies in Ghana using scholar activism and advocacy.
A member of the coalition, Prof. Paul Armah Aryee, an Associate Professor of Public Health at the University for Development Studies (UDS) urged the public to reduce the consumption of SSBs and take in more water which is healthier. He expressed his concern about the incremental stock of SSBs on the shelves in most retail shops in Ghana. He added that frequent consumption of these SSBs could lead to stroke, obesity and diabetes.
The public relations officer of the Ghana Registered Nurses and Midwives Association of the Tamale Metro, Mr Aminu Fuseni also reported on the increasing number of diabetes cases in most of the health facilities in the Northern region of Ghana can be attributed to the frequent consumption of SSBs. He therefore, also urged the public to reduce the consumption of these unhealthy beverages to save their lives.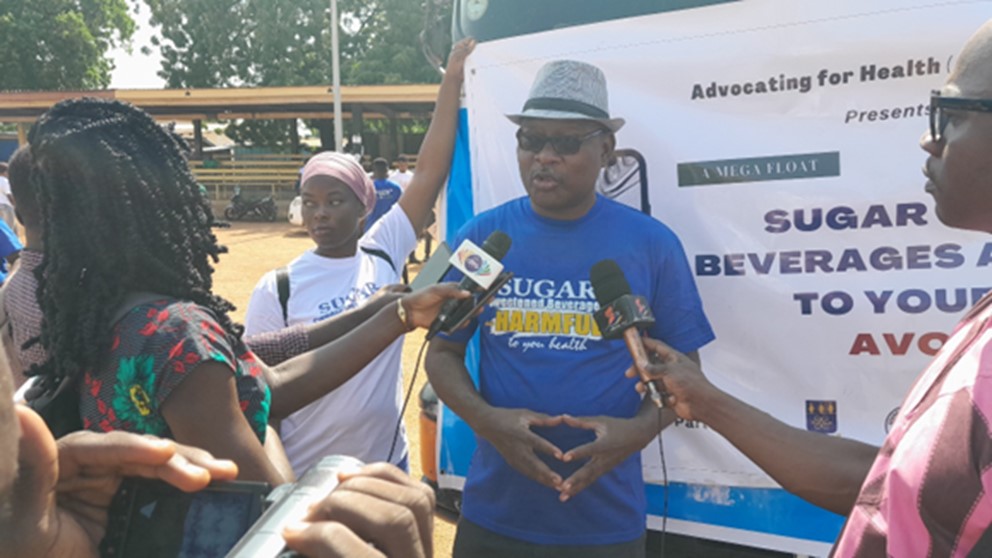 Residents in Tamale were consequently advised by the floaters to take charge of their eating choices and drink wisely. The floaters also called on government to take immediate necessary actions ensure that a healthy food environment is created to promote optimal health and protect the lives of Ghanaians
Find photos, media reports, and videos in the links below
https://drive.google.com/drive/folders/1aiT-95VjrGiHpf1cmZYW0hURha59AoEQ?usp=sharing
Report by online news portals
Graphic- https://www.graphic.com.gh/lifestyle/sugar-sweetened-beverages-increase-risk-of-type-2-diabetes.html
Ghana News Agency – https://www.gna.org.gh/1.21531442
News Reports by TV stations 
Sangani TV English – https://www.youtube.com/watch?v=lI9r5b4eS4w&t=6s
Sangani TV Dagbani – https://youtu.be/6SlAWIv44jg
Citi News – https://youtu.be/H9EVayT710