On Wednesday, 26th of October 2022, members of the Volta-Eastern Zone of the Ghana Academy of Nutrition and Dietetics (GAND) in collaboration with the other Advocating for Health (A4H) project partners embarked on a float around the principal streets of Ho. The float was convened by Prof Francis Zotor, a professor of Public Health Nutrition in UHAS, and a Coalition member on the Advocating for Health (A4H) Project.
The float had one hundred and seventy- seven (177) participants which included students and lecturers from the University of Health and Allied Sciences, nutritionists, dietitians and nurses from the Ho Teaching Hospital.
The float started at the Ho Teaching Hospital with an address by Prof Zotor, and interviews by the media present. Participants shared useful information on the sugar-sweetened beverages (SSBs), with people along the streets using placards and distributing hand fliers. They spoke to traders, drivers, artisans, hawkers, shop attendants, market women.
During the float, the general public, especially parents with children, were urged to desist from patronizing SSBs.  According to Professor Zotor, the leader of the floaters, SSBs are liquids that are sweetened with various forms of added sugar like brown and white sugar, corn sweetener, corn syrup, molasses, raw sugar and many others. These beverages are bought everywhere by both the poor and the rich because they are sweet and very affordable but have adverse effects on the society especially children.
"The rich and the poor can afford to purchase and use them. In homes, one can easily wipe the tears of a crying child since SSB readily compensates for that matter. These SSBs are liquids that are sweetened with various forms of added sugars like white or brown sugar, corn sweetener, corn syrup, dextrose, fructose, glucose, high-fructose corn syrup, honey, lactose, malt syrup, maltose, molasses, raw sugar, and sucrose. They usually come in the form of regular soda (not sugar-free), fruit drinks, sports drinks, energy drinks, sweetened waters, as well as coffee and tea beverages with added sugars," he said.
Prof Zotor noted that unfortunately, in Ghana and other low middle income countries (LMICs), SSBs have become an attractive market for beverage companies owing to the rapid economic growth of middle class, and youthful populations. He noted that over 70% of Africa's population is under 30 years old and it is worrying when one considers what effect these sugar-sweetened beverages would have on the next generation.
"There is a plethora of research that has linked the consumption of sugar-sweetened beverages to the increase of non-communicable diseases (NCDs) such as obesity, type 2 diabetes, heart disease, high blood pressure, stroke, kidney diseases, non-alcoholic liver disease, strange cancers, most of which could lead to sudden and untimely deaths. "Studies have shown that tooth decay and cavities, gout, and a type of arthritis are also associated with excessive consumption of sugar-sweetened beverages," Professor Zotor said. He noted that the consumption of sugar creates neurological changes in the brain that also occur with addictive drugs which releases chemicals that create euphoria and pleasurable feeling and thus might be expected to have addictive potential. Africa by 2030 will be spending in excess of $4 billion on health alone, money which can be used for other things.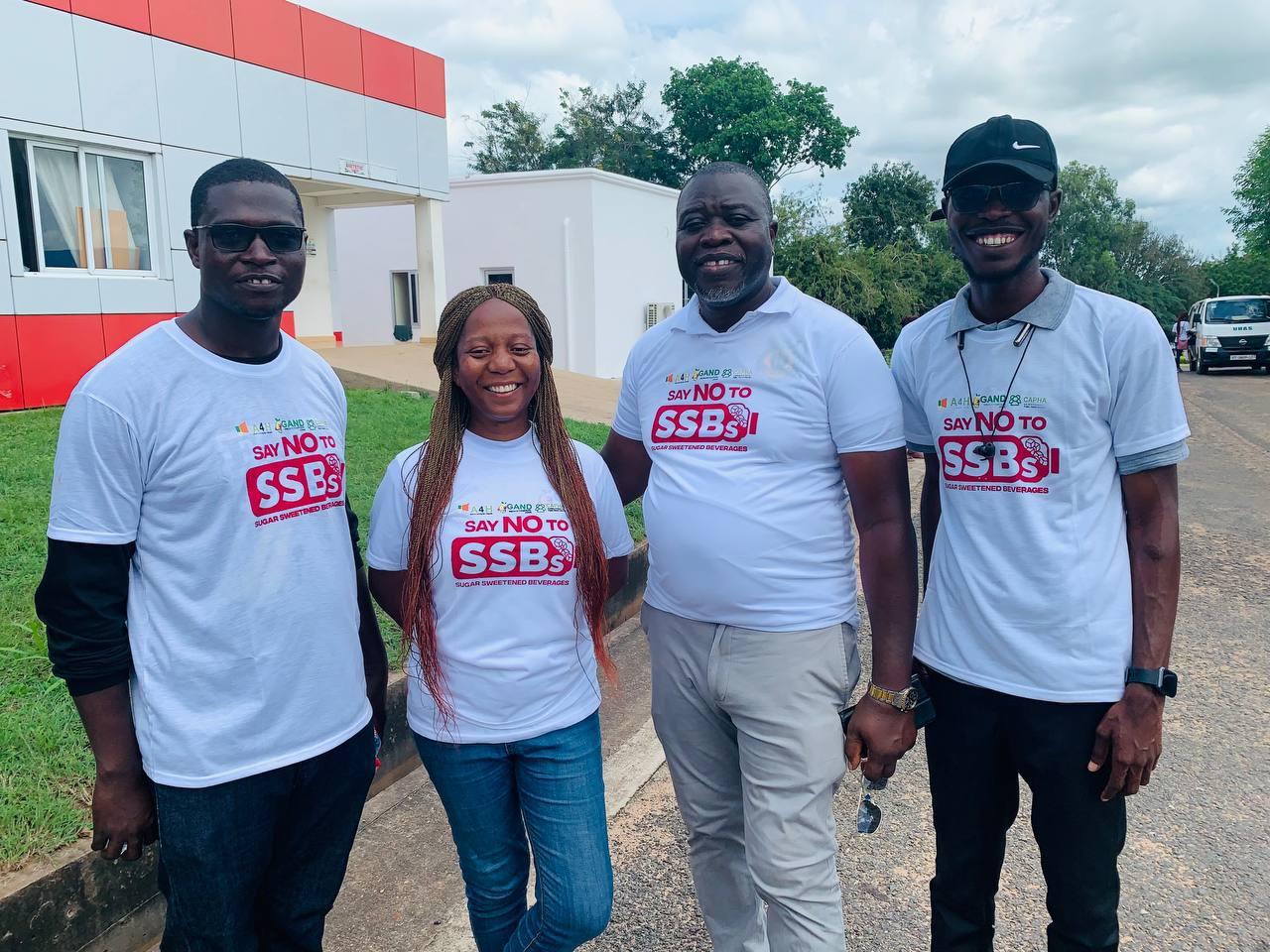 Prof Zotor called for active engagement of all stakeholders as a first step to putting a stop to SSBs.
"The time has come to openly have discussions on the impact of sugar on our overall health and well-being. Ghana and Africa-wide need consensus building and the promotion of local actions as well as innovations for addressing sugar-sweetened beverages in our urban and rural communities, the time to act is now here," said Vice President of the Ghana Academy of Nutrition and Dietetics, Mr.Percival Agordoh.
Find below links to media reports
https://www.myjoyonline.com/sugar-sweetened-beverages-kill-stop-patronising-them-nutritionist/
https://gna.org.gh/2022/10/ghanaians-urged-to-reduce-intake-of-sugar-sweetened-beverages/
https://www.sweetmelodiesfm.com/ghanaians-urged-to-reduce-intake-of-sugar-sweetenedbeverages/?utm_source=rss&utm_medium=rss&utm_campaign=ghanaians-urged-to-reduce-intakeof-sugar-sweetened-beverages
https://newsghana.com.gh/reduce-the-intake-of-sugar-sweetened-beverages/
https://www.gbcghanaonline.com/uncategorized/sugar-zotor/2022/?fbclid=IwAR2hZyqtdUb0ZxAgw1COtUDoAWLWvdiWiqU-k8UUW-k1OzMEw-CIo1goeI