The Ghana Public Health Association led the A4H coalition on a float in Accra to create awareness on the health hams of sugar-sweetened beverages and its link to diet-related non-communicable diseases. This event took place on the 15th of November, 2022.
A local organizing committee (LOC) chaired by Dr. James-Paul led in the organization of this event.  About 130 people participated in the float comprising members from the Ghana Health Service, Ghana Public Health Association, Ghana Academy of Nutrition and Dietetics, School of Public Health – University of Ghana, Korle Bu Teaching Hospital, Public Health Nurses Training School – Korle Bu, and Ghana NCDs Alliance.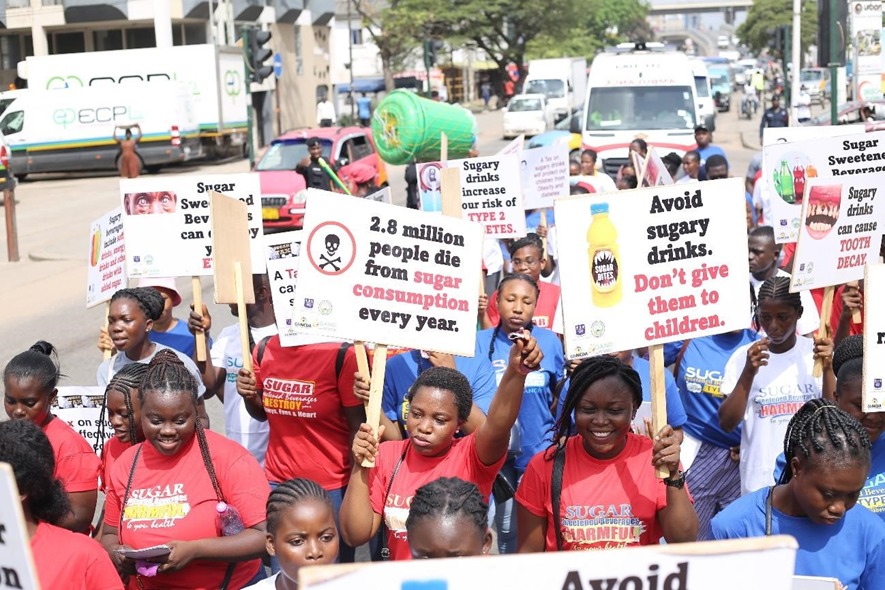 Speaking ahead of the float, Professor Amos Laar, a Professor of Public Health Nutrition from the University of Ghana and the project leader expressed the fact that public health professionals are worried about the increasing health economic cost of non-communicable diseases and their risk factors which are among the top causes of death according to the World Health Organization.
He therefore called on Government of Ghana to take necessary steps to promote, protect and assure the health of its citizens. "The float we are conducting seeks to sensitize Ghanaians about the harmful effects of sugar sweetened beverages but also to draw attention to the government that there is the need to act and act now. Excessive consumption of sugar, particularly in liquid form, also referred to as sugar-sweetened beverages (SSBs) is harmful to health. The frequent and excessive intake of SSBs is a risk factor for obesity, diabetes, hypertension, cardiovascular disease and many common cancers," Prof. Laar said.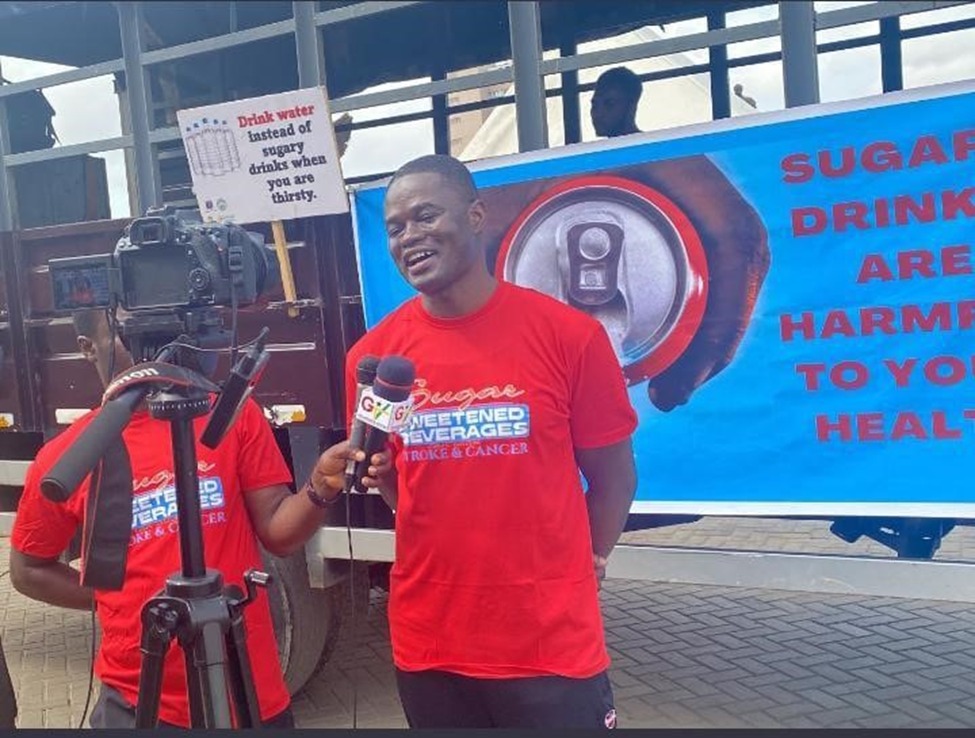 The 3-hour float started from Circle Dubai (Old Obra Spot), through Adabraka, Accra Technical University, Tema Station, Ministries, Parliament House and back to Cirle Dubai. The float was led by personnel from the Ghana Police Service and National Ambulance Service.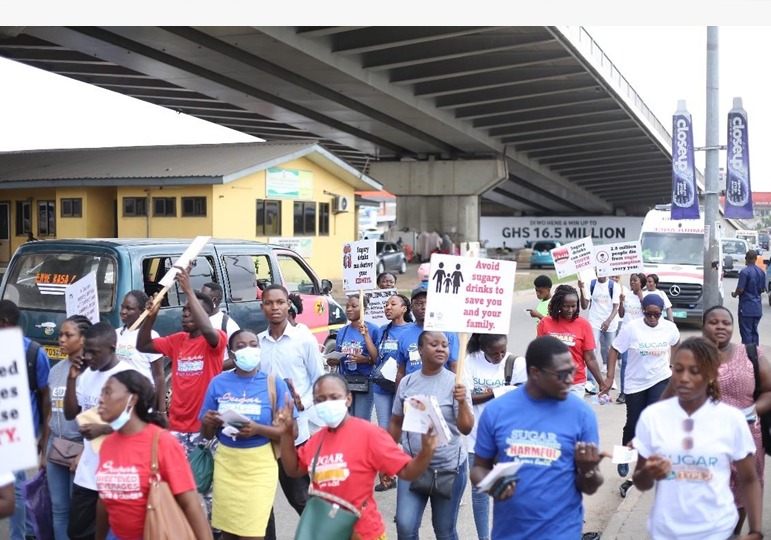 Participants wore branded T-shirts, carried placards and distributed pieces of hand fliers with various messages on SSBs. They also used megaphones to project the messages on SSBs in different local dialects. Some of these messages included health implications of excess sugar intake such as obesity, diabetes, stroke, dental carries and other diet related non-communicable diseases (NCDs) and the need for the government to impose SSB tax. Participants also interacted with people they met on the streets as well. Market women benefited from this health awareness, explanations were made and all questions asked were answered accordingly.  The general public were advised to take in water and fresh fruits as healthier alternatives to SSBs.


As Part of the activities, statements were presented to the Ministry of Finance and Parliament of Ghana for the government to impose a tax on Sugar-sweetened beverages. Prof Amos Laar in his presentation started that, the taxation of SSBs as recommended by the WHO has been as a cost-effective intervention to reduce the excessive consumption of SSBs and has a positive impact on health. The presentations were done by Prof Amos Laar and Dr. James Paul on behalf of Advocating for Health. At Parliament, they were met by Hon. Akandoh, a Ranking Member of the Health Committee and Hon Akwasi Konadu a member of the Health Committee of Parliament.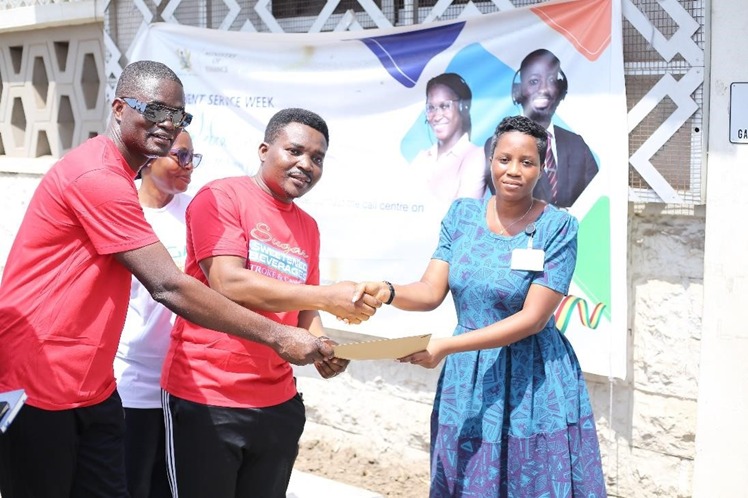 Presentation to the Ministry of Finance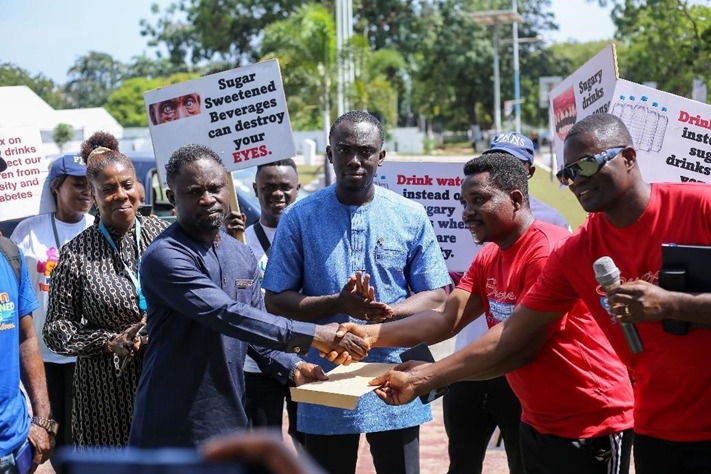 Presentation to the Parliament of Ghana