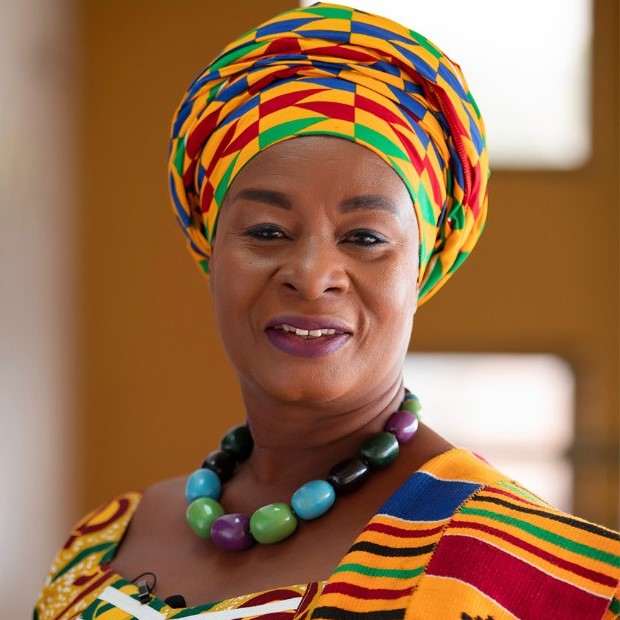 Nanahemaa Adjoa Awindor
Development Queen Monther and Media Show Host, Ghana
Nanahemaa (Queen) Adjoa Awindor (Stool Name: Obaapa Adwoa Ankyaa I). Nanahemaa Adjoa Awindor is the Development Queen mother of Afigya-Kwabre District in Ashanti Kingdom in Ghana. A Multi-media, Marketing, Communication, OSD Consultant. A Trainer and a very passionate advocate for Women and Children especially the disadvantaged in society.
Nanahemaa is the CEO of Premier Productions Group, a Multi-Media Production concern which she co-founded over 25years ago with 3 vibrant sections (Premier Productions, Premier Media Academy, Premier Events & Promotions) Nana is also Executive Director and Founder of Obaapa Development Foundation, an NGO that supports Women and Children through Advocacy, Health and Education.
She is the current Continental Board Chair of the African Queens and Women Cultural Leaders Network (AQWCLN), which she co-founded with Queen Sylvia Nagginda of Buganda Kingdom in Uganda.
Nanahemaa Awindor has had formal professional training in various fields, which includes but not limited to: Graduate in Film and Television Production at the National Film & Television Institute (NAFTI) Ghana, Training of Trainers course at the Radio Netherlands Training Centre, Hilversum - Netherlands, Professional Certificate in Organizational Systems Development (OSD) at the Gestalt Institute of Cleveland, USA & OD Centre - Ghana, Post-Graduate Diploma in Business Administration at the European Business School Cambridge, UK, offered at Oxford SAID campus, Certificate in Women and Management and a Certificate in Marketing Management, both from the Ghana Institute of Management and Public Administration (GIMPA) etc.. etc.
Nanahemaa Awindor's exposure to Multi-media Production, Marketing and Organisational Systems Development has illuminated her understanding of the complexities inherent in socio-cultural worldviews, sustainable development and social advocacy. As the 1st Professional Video Camerawoman in Ghana and an Editor by training, she has produced over 30 video documentaries especially on development-oriented issues.
Nana is a Passionate Advocate and has supported various projects and Campaigns such as:
Ending Child Marriage with Ministry of Gender, World Vision International and Plan Ghana
The fight against FGM and Gender-based Violence with UN Women
Maternal Mortality and Championing NewbornCare with PATH and Ghana Health Services
HIV/AIDS (PMTCT) with UNAIDS and Ghana Aids Commission
Population Control with UNFPA and Ghana Population Council
Human Trafficking (with emphasis on Child Trafficking) with International Justice Mission (IJM) and International Organisation for Migration (IOM)
Ghanaians Against Child Protection (GACA) with UNICEF and DCD
SHRH, SSGBV/HP with UNFPA, SDGs etc. etc..
NanaHemaa is a Motivational and Inspirational Public speaker, Youth Empowerment campaigner and a great Mentor with proficiency in three Ghanaian dialects and English.
NanaHemaa's work as a broadcaster and communicator, has won her several local and international awards, including the most prized Chartered Institute of Marketing Ghana (CIMG) Marketing Woman of the Year in 2006.
Nana is a Royal from the Adum Stool House in Kumasi in the Great Ashanti Kingdom. She was enstooled As the Development Queenmother (NkosooHemaa) of Afigya-Kwabre District in 2010.
As a Cultural Leader Nanahemaa intensified her niche to bring together Development-oriented Queenmothers across the country to pursue self-actualisation and by extension, their community development. Nana has up to date organised 3 of such groups; Ghana National Union of Queenmothers (Gh-UNIQUE), Unity Queens and the Advocacy Queens. With her He-For-She intent, all the listed groups have men as either Patrons or Fellows.
As the Executive Director of OBAAPA Development Foundation (ODF), Nanahemaa Awindor has coordinated various Projects and Programs. For the past 10 years ODF have partnered with overt 30 Traditional Councils across Ghana to run the OBAAPA Women and Children's Day Celebration Program at Ghanaian Festivals etc.
ODF's Flagship project, the 1000 Teenage Mothers Back To School Project (TMBTSP) has so far enrolled 70 young mother drop-outs back to the classroom to continue their education and is in the process of preparing the next batch of 100 for next academic year. The project aims to enrol up to 1000Teenage mothers Back to School within the next 10 years.
She has had several local presentations, international conferences and speaking engagements on many platforms and including:
Juvenile Justice Advisory Committee Workshops/Meetings
Child & Family Welfare Policy Technical Committee Workshops/Meetings
Panel Member – High Level Meeting of the GlobalPower® Women Network Africa Zimbabwe - 2012
African Queens and Women Cultural Leader's Network - Continental Launch in Kampala, Uganda 2013
Panel Member - High Level Meeting of the GlobalPower® Women Network Africa – Abuja, Nigeria, 2013
Chairperson - Ghana Aids Commission...World AIDS Day Launch in Accra, 2013
CSW in New York – 2015/2016
Panel Member – Pre ICASA-UN Women Conference in Zimbabwe – 2015
Panel Member ICASA Main Conference in Zimbabwe - 2015
Resource person - UNAIDS Women's Summit in Accra
International AIDS Conference XIX in Washington DC
AQWCLN Continental Board programs in Nairobi Kenya
HLD - GEWE in Khartoum, Sudan
African Women Intercultural Dialogue in Abuja, Nigeria
AU Cultural Meetings in Addis Ababa, Ethiopia etc. etc.