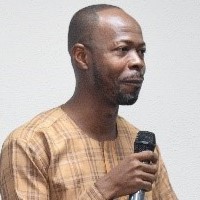 Mr. Labram M. Musah
National Coordinator, GhNCDA
Mr. Labram M. Musah is a public health enthusiast who believes that with intentional policy restructuring, the socioeconomic and health consequences of NCDs in Ghana and beyond would be a thing of the past. He holds a Bachelor's Degree in Business Administration from the University of Professional Studies and an MBA in Project Management from the Wisconsin International University College.
Labram is currently the National Coordinator of the Ghana NCD Alliance; working diligently to mobilize multi-stakeholder advocacy efforts towards the adoption of alcohol and food policies that protects people who are at risk of or living with NCDs. He doubles as the Executive Director of Programs of the Vision for Alternative Development (VALD-Ghana), the leading organization advocating for stringent tobacco and alcohol control as well as road safety and climate change measures in Ghana. With his proven predisposition to make an impact, he also serves in various leadership capacities; he is a member of the Africa NCDs Network, Africa Tobacco Control Alliance, Ghana Alcohol Policy Alliance etc.
He has spearheaded several result-driven initiatives both locally and internationally; he was among the leadership of VALD-Ghana that advocated for the passage and adoption of Ghana's Tobacco Control (TC) Measures and Regulations in 2012 and 2016 respectively. He was also instrumental in the development process leading to the adoption of the National Alcohol Policy in 2016.
Labram has authored/co-authored several publications among which include; the Ghana Tobacco Industry Interference Index in 2020 and 2021, the Situational Analysis on the Status of NCDs within the context of UHC in Ghana, the Ghana Advocacy Agenda for People living with NCDs in 2018, the civil society shadow report on the implementation of the WHO-FCTC in Ghana in 2010 and the Ghana Tobacco Industry Mapping/Monitoring report for Ghana in 2013. His latest publication on addressing the double-burden of malnutrition among children and adolescents in sub-Saharan Africa; can be view here: https://www.joghr.org/article/36904-addressing-the-double-burden-of-malnutrition-among-children-and-adolescents-in-sub-saharan-africa
He is changing the narrative each day with his enabling attitude of mentoring and coaching like-minded individuals and organizations to achieve the collective goal of a healthy Ghana, free from NCDs.